For you to have a rewarding hog hunting expedition, you need an optic to help you aim accurately and ensure that you don't miss your target. Since hogs are nocturnal, a thermal rifle scope is an indispensable tool to have in your tool set.
Thermal rifle scopes generate bright and crisp image views even in total darkness. They detect heat signatures from your subject to form an image you see on the optics, bring you closer to the distant targets and ensure that you maintain your shooting accuracy regardless of your hunting environment.
In today's post, we have a comprehensive review of the best thermal rifle scope for hog hunting available on the market today. If you are looking to take your hog hunting to the next level, these scopes will be of great help to you. But before we take a look at these scopes in detail, let us start by taking a look at the important features that a thermal rifle scope for hog hunting should have.
What Makes a Great Thermal Rifle Scope for Hog Hunting?
There are numerous attributes that make a thermal rifle scope great for hog hunting and the first thing is the thermal sensor. A thermal scope for hog hunting and hunting in general is as good as its sensor. Look for a model that comes with an ultra-sensitive thermal sensor so it will be easy for you to detect your targets even when they are hiding behind obstacles like bushes.
Secondly, a great thermal scope comes with a decent magnification for glassing targets at both close and distant ranges. To complement the magnification, the scope should also have a quick refresh rate for accurate target recognition.
Furthermore, a good thermal rifle scope is made with high-quality materials that enhance the durability. In addition to having a quality construction, the scope should be shockproof, fog proof and water proof. This will optimize the durability and ensure that you get reliable performance in any weather condition. Also, a great thermal rifle scope should have a decent detection range, a long lasting battery and a lightweight construction for easy maneuverability in the field.
6 Best Thermal Rifle Scope for Hog Hunting – Our Top Picks
Let us now go over the best thermal rifle scopes for hog hunting we have compiled in our list today.
1) ATN ThOR 4 4.5-18x50mm Thermal Smart HD Rifle Scope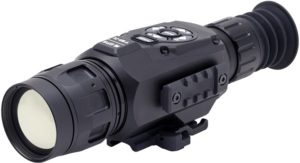 The ATN ThOR 4 4.5-18x50mm Thermal Smart HD Rifle Scope is our top pick for hog hunting. This thermal rifle scope resembles a traditional rifle scope with 30mm main tube which makes it simpler to use. It also comes with virtually everything you require to turn your next hog hunting into a success.
This rifle scope has a 384 x 288 thermal sensor with a 60Hz refresh rate. Even in the blackest nights, you are guaranteed that it will deliver crisp and bright images for accurate target acquisition. Better yet, it has a ballistic calculator, a smart range finder and one shot zero function all of which come in handy when hunting.
If you like to record your hunting excursions, this rifle scope got you covered. It has a built-in video recording and a recoil activated video that makes video recording a walk in the park. It also features dual stream that allows video recording and streaming simultaneously.
Construction-wise, ATN has built this thermal scope to be nearly indestructible. It features an aluminum alloy body with impact resistant electronics. It is also weather-resistant to offer dependable performance in any weather  and shock resistant to persevere anything you throw at it.
Features
30mm main tube diameter
Day and night functionality
60Hz refresh rate
Impact resistant electronics
Recoil activated video
384 x 288 thermal sensor
Weather-resistant aluminum alloy body
Pros
Long eye relief
Ability to share information with other users via Bluetooth and Wi-Fi
Reticle adjusts automatically as you zoom
Easy to use interface
Sees through smoke, fog, dust and light obstacles
Cons
Costly for recreational hunting
2) Pulsar Core RXQ30V 1.6-6.4×22 Thermal Rifle Scope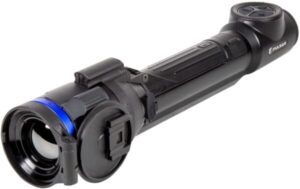 This Pulsar thermal rifle scope is a no nonsense hunting optic built to take your hunting skills a notch higher. It has a high resolution 384×288 thermal sensor that provides highly detailed imaging, even in dark, moonless nights for accurate target identification. It is also designed to perform effectively over a wide range of temperature from -13°F to 122°F.
This thermal scope utilizes a green sapphire display which allows you to observe your targets without eye strain and fatigue. Moreover, it boasts Pulsar's popular Picture-in-Picture function that offers a large field of view in addition to precise shot placement.
Another impressive feature about this optic is the Iris technology that offers increased recognition and detection range. With it, you get a detection range out to 900m which is more than sufficient for hog hunting. The scope also boasts a variable zoom power which makes it ideal for hunting at varying distances.
Above all, the RXQ30V has a lightweight and compact design for easier maneuverability in the field, and it is fully waterproof to provide dependable performance even in rainy and humid environments.
Features
High resolution 384×288 core
IPX7 waterproof rating
Green sapphire display
2x, 4x with stepped digital zoom
900m effective detection range
Weaver/Picatinny mount
White-hot and black-hot viewing modes
Pros
Lightweight and compact design
Ideal for use in a wide range of temperatures
High 50Hz image frequency
Easy to use
Excellent image quality
Cons
3) ATN X-Sight 4K Pro Edition 5-20x70mm Smart HD Day/Night Rifle Scope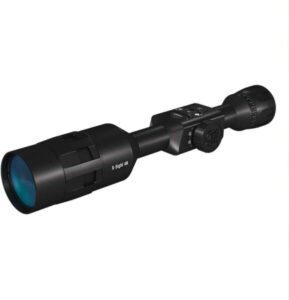 ATN manufactures a wide selection of high-quality night vision and thermal equipment and this X-Sight 4K Pro Edition 5-20x70mm Smart HD Day/Night Rifle Scope is not any different. It has dual functionality which makes it ideal for hog hunting at night and during the day.
ATN made this HD rifle scope with hunters in mind. It offers a wide field of view for swift target identification and easy tracking of fast-moving hogs. Moreover, it has ballistic calculator to help you hunt responsibly and a smart rangefinder that shows you how far your targets are so you can plan your shot. Also, it has a shockproof construction to endure rough handling and a water resistant design for use even in heavy downpour.
With this rifle scope, you also get a One Shot Zero function that makes sighting in the scope simple, and a recoil activated video to help you capture every precious moment of your hunting trip. Above all, the scope has a lightweight design that enhances portability and a long-lasting battery that offers up to 18 hours of continuous run time to keep you in hunting field for as long as you want.
Features
One Shot Zero technology
Recoil activated video
30mm main tube
Ultra-high definition 4K sensor
Video record in 1080P
Ballistic calculator
Smart range finder
Pros
Long battery life
Day and night functionality
Well built
High-quality optics
Excellent accuracy
Value for money
Cons
Compass included is not reliable
Not cheap
4) Steiner eOptics Nighthunter S35 1-8x Thermal Imaging Rifle Scope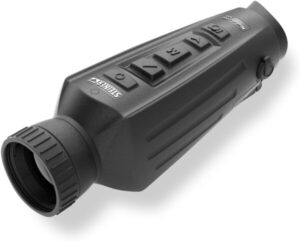 Another best thermal rifle scope for hog hunting on our list is the Nighthunter S35 1-8x Thermal Imaging Rifle Scope. With this scope, you will get outstanding optical performance even on the darkest nights where you can't see an inch ahead with your naked eyes.
It utilizes a top-tier thermal sensor which provides stupendous display quality regardless of the lighting condition. It also features a Quantam Vision technology that offers outstanding usability by creating a superior night hunting thermal optic.
Long detection range is another feature that makes this thermal imaging rifle scope stand out. With it, you can detect hogs, coyotes, pigs and other predators past 2,000 yards and recognize them within 500 yards. Moreover, it features multiple reticle colors for visibility in diverse lighting environments, and customizable color output for optimum eye comfort especially when you are behind the scope for long hours.
Features
High-quality OLED display
1-8x variable magnification
640×480 pixels sensor resolution
Picatinny attachment mount
Multiple reticle colors
Customizable color output
Pros
Crisp clear views of moving game
Durable housing
High contrast with outstanding sensitivity
Long detection range
Numerous accessories included
Cons
5) Pulsar 2.5-10x Talion XQ38 Thermal Imaging Rifle Scope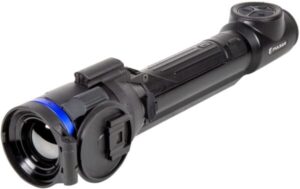 Next up is the Talion XQ38 Thermal Imaging Rifle Scope from Pulsar. This optic comes with nearly every feature that you require to take your turn your hog hunting into an extravaganza.
Firstly, it features a highly-sensitive 384×288 sensor that offers highly detailed imaging even in pitch-dark nights. Additionally, it has a Picture-in-picture mode that gives you a visual control of the whole field of view for more precise shot placements. It also offers a selection of 10 different reticle patterns in 9 color modes for greater accuracy in various lighting environments.
This scope is built to be used on a wide range of firearms. It possesses 5 shooting profiles that save up to 50 zeroing distances. It also comes with a multi-point prism mount for accurate positioning on the rifle and a unique battery design that allows for rapid extraction when you need to do a replacement.
For extra convenience, the scope allows for rapid and correct focusing without the need to look at the adjustment knob or change your shooting position. It also boasts 3 sensitivity amplification levels which provide better hunting opportunities and a lightweight magnesium alloy housing that maximizes durability without adding extra weight.
Above all, this optic has an IPX7 waterproof rating so it will work well in any weather condition.
Features
Photo and video recording
384×288 sensor
IPX7 waterproof rating
10 reticle patterns in 9 color modes
Lightweight magnesium alloy housing
Picture-in-picture mode
Wi-Fi integration with iOS and Android devices
Pros
8 variable color palettes
High image quality even in extreme weather conditions
Versatility
Easy to use
3 sensitivity amplification levels
Cons
Heavily built
Short eye relief
6) Trijicon Electro Optics IR-hunter Type 2 24mm Thermal Rifle scope 640×480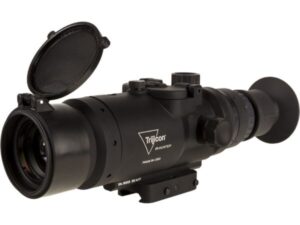 Another robust and reliable thermal scope ideal for hog hunting is the Trijicon IR-hunter 24mm Thermal Rifle scope. This mini thermal scope is rugged, powerful and very simple to use.
At the heart of this scope is an ultra-sensitive 640×480, 12 micron thermal image sensor which delivers superb image quality and clarity in any lighting situation. This high-end sensor doesn't work only at night. It will also help you to see your targets clearly through smoke, dust, sand, fog and total darkness.
Furthermore, the scope features a wide selection of user-selectable reticles for use in different environments. Construction-wise, it features a top-loading battery compartment for easy battery change without removing the optic from the firearm, a quick release mount which provides multiple mounting locations and intuitive turret controls for ease of use.
Above all, this USA-made thermal rifle scope is built tough to handle anything nature throws at it and ensure that you get many years of service from it.
Features
640×480, 12 micron thermal sensor
Durable construction
Top-loading battery compartment
User-selectable reticles
Intuitive turret controls
Expanded functionality
Pros
American quality
Great accuracy
Compact design
Advanced IR technology
Multi-purpose
Ideal for hunting in adverse climatic conditions
Cons
Read Also
How do Thermal Scopes Work?
Thermal imaging scopes work by detecting IR heat that is given off by an object. Both living and non-living things emit infrared radiation. When you are hunting or shooting, the scope will detect the IR radiation from the target, process the signals it collects and transform that to photons that form the image you see on the scope.
Unlike night vision scopes that depend on some amount of light to create an image, a thermal imaging scope will work even in total darkness. All it needs it to detect heat signatures from the subject to form the image.
Criteria for Choosing the Best Thermal Rifle Scope for Hog Hunting
With the market offering plenty of thermal scopes to choose from, here are some of the features you should look for when shopping for the best thermal rifle scope for hog hunting.
Magnification
Magnification in a thermal scope enlarges a distant object and brings it closer. Normally, thermal scopes have lower magnification compared to that in traditional rifle scopes. This is because high magnification can minimize the image resolution and refresh rate. To achieve the most out of your expedition, look for a scope that offers decent magnification depending on how far you will be hunting.
Resolution
Resolution is arguably the most integral part of a thermal rifle scope. It not only affects the quality of the images produced, but also determines the cost of the equipment.
When it comes to choosing the best thermal scope for hog hunting, a model with a 384×288 or 640×480 sensor will be sufficient. But a model with 640×480 sensor will provide clear images than the former.
Detection Range
The other important feature to look at is the scope's detection range. This is the maximum distance that it will allow you to positively identify your target.
The high-end models will let you identify a target that is as far as 4,000 yards away, while entry-level scope have about 1,000 yards detection range. Typically, your ideal detection range will chiefly depend on the task at hand and the hunting environment as well.
Refresh Rate
To have the most out of your hunting trip, you will need a thermal scope with a high refresh rate. The more frequently the optic refreshes, the clearer the image views will be and the faster the information you will get. A tip is to look for a model that offers not less than 50Hz refresh rate.
Battery Life
A quality thermal rifle scope will offer at least 8 hours of continuous run time. This way, you are able to hunt continuously without the interruption of battery failure.
Other than the battery life, pay attention to whether the battery is removable on rechargeable. If it is removable, ensure that is it is readily available in the market for when you need to do a replacement.
Durability
Lastly, consider the quality of construction the thermal scope has. These devices are costly, so you will want to invest in a model that is built-well to offer long-term durability. It is this way only that you will get value for your money.
A good quality thermal rifle scope is made using high-grade materials that optimize its strength, durability and reliability. The scope should also be waterproof, fog resistant and shockproof for added durability and all-weather use.
Best Thermal Rifle Scope for Hog Hunting FAQs
What is the range of a thermal scope?
The range of thermal scopes is different from one model to the other. It also affected by the weather condition and the quality of sensors an individual device has. Typically, thermal scopes for hunting have an effective identification range of about 500 yards and a detection range of at least 1,000 yards.
Can a thermal rifle scope see through walls?
No. A thermal scope can not see through walls. The thickness of walls blocks the infrared rays from reaching the scope. However, a thermal rifle scope can see through smoke and fog in addition to dust and total darkness.
Final Thoughts
Knowing what you need from a thermal rifle scope for hog hunting will help make your selection process simpler and less time consuming. We do hope that this guide has given you some insight into the best thermal scope for hog hunting. All the scopes listed above use superior and modern thermal imaging technology to revolutionize how you hunt and make your hunting trips more fun and rewarding. Use our guide above and pick the model that suits your hunting needs and style the best.