As exciting as bow hunting is, having the right equipment is key to having a successful hunting trip. One of the invaluable tools you need is a rangefinder. The best rangefinder for bow hunting will give you the exact yardage to the target and enhance precision in every shot you take. Additionally, carrying a rangefinder will go a long way to boost your confidence and make you a better hunter.
Rangefinders for bow hunting make a handy companion for all hunters no matter the skills and hunting experience. When pursuing a target that is in an elevated or downhill angle, the rangefinder takes this into account and provides an accurate yardage to the target so you can plan the shot. This makes them ideal for use in all types of terrains.
What Makes a Great Rangefinder for Bow Hunting?
All rangefinders serve the same purpose of providing the yardage to a target but not all are great for bow hunting. For a rangefinder to be ideal for bow hunting, it should have a bow mode and an arrow flight patch technology. These two features are important in ensuring that you get the most out of your bow hunting trip.
Over and above that, the rangefinder should be built with ease of use in mind. A rangefinder with an easy hand one operation will be quick to deploy in situations where rapid target acquisition is vital. The rangefinder should also be compact, lightweight and portable.
Another feature that the best rangefinder for bow hunting has to have is a high build quality. With quality construction, the unit will endure whatever punishment you subject it to. On top of that, the rangefinder should be waterproof and fog proof for use even in adverse weather conditions.
Best Rangefinders for Bow Hunting – Top Picks
With the rising demand of rangefinders for hunting, the market is now flooded with rangefinders from a wide range of manufacturers. This makes it a chore to find the right model for your needs. To make your selection process easy, we have done our homework and put up a list of the very best models that are ideal for bow hunting.
So, without wasting any more time, let's dive right in.
1) Leupold RX-FullDraw 5 Rangefinder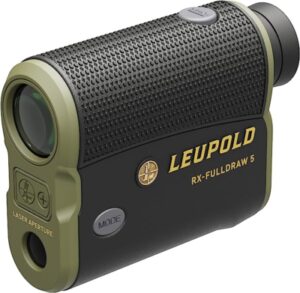 First up we have the Leupold RX-FullDraw 5 Rangefinder. Carrying the reputable Leupold name, the rangefinder is built with a ton of great features that the avid bowhunter and competitive archer requires to take their hunting/archery skills to a whole new level.
This rangefinder is built for use in virtually all lighting and weather conditions. It has a bright and crisp red display that provides visible readouts in any lighting condition. Furthermore, the it is built to be usable even in extreme hunting environments and in temperatures ranging from -40 to 160℉.
Precision is another facet that makes this tool the best rangefinder for bow hunting. During use, it takes the bow velocity, peep height and the arrows weight, and then calculates the laser accurate ranges based on that information. Additionally, the rangefinder provides quick distance readings with great accuracy all through. It also has multiple reticle patterns for you to choose from based on your preference.
For added convenience, the rangefinder features an ergonomic lightweight design for easy portability. It is also built with a clear 6x magnification power for enlarging the small size targets and getting the hunter closer to the distant game.
Features
Bright red OLED display
Line of sight
Multi reticle system
Flightpath technology
6x magnification
Waterproof and fog proof construction
Digitally enhanced accuracy ranging engine
Pros
Accurate ranges at full draw
Visible readouts in any lighting condition
Quick, precise ranges
Intuitive and user-friendly controls
2) Maven RF.1 5-4500 YD ED Rangefinder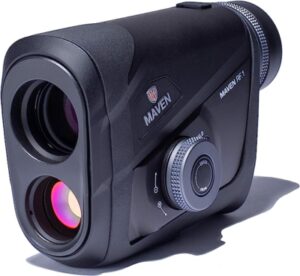 Built with a 7x magnification power and a metering range of 5-4500 yards, the Maven RF.1 5-4500 YD ED Rangefinder makes a handy companion for every bow hunting expedition. It works well even in the difficult to range situations where it yields fast distance readings with stunning accuracy.
Optically, Maven designed this rangefinder which premium glass to ensure confident ranging. Furthermore, this tool comes with field and forest modes that you use to tailor the settings depending on the hunting environment. It also has an ultra-lightweight design of 10oz only and a compact size that ensures comfortable, secure and simple one-hand operation.
When it comes to construction, the rangefinder features a rugged magnesium frame that is optimized for durability. besides, the exterior surface is scratch resistant to guarantee additional protection from the field. The rangefinder is also fully waterproof and fog proof to be usable in all sorts of weather conditions.
Features
5-4500 yards metering range
7x magnification
Waterproof and fog proof
Robust magnesium chassis
Field and forest mode
Premium glass
Pros
Compact and ultra-lightweight
Solid construction
Excellent value for money
Fast and accurate readings
Cons
Not ideal for use in extremely cold environments
3) Astra Optix OTX1600 6×21 Laser Rangefinder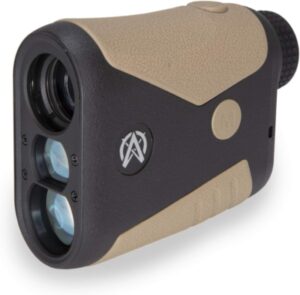 The Astra Optix OTX1600 is a premium quality laser rangefinder that is optimized for versatility. It is designed with a ton of incredible features for rifle and bow hunting to fit your budget without compromising quality and functionality.
The rangefinder brings to the table an angle compensation mode that provides the angle-corrected shoot-at distance irrespective of the terrain you are hunting in. Additionally, this tool comes defaulted to the horizontal distance mode so all that is required of you is to adjust the mode for your bow hunting needs.
In addition to fast and accurate ranging abilities, this rangefinder is built to offer unmatched durability. It has a strong and durable construction to offer dependable performance in all situations. Further, the optic has a weatherproofed body to survive in harsh conditions of rain, snow, ice as well as extremely hot and cold conditions.
Another highlight of this compact and user-friendly rangefinder is the all-glass optical system that yields stunning picture quality even in poor lighting conditions. On top of that, this tool has fully multi-coated, rain repellent coating which not only enhances light transmission, but also protects the exterior lenses from scratches, dirt and stains.
Features
6x magnification
All glass optical system
Waterproof and shockproof construction
1760-yard ranging capability
Red OLED display
Rain repellent coating
Durable and rubber armored composite body
Pros
Fast and accurate ranging ability
Easy to use
Multiple modes to choose from
Bright and clear display even in dim light
Inexpensive
Cons
Less accurate in the woods
4) Vortex Optics Impact Laser Rangefinders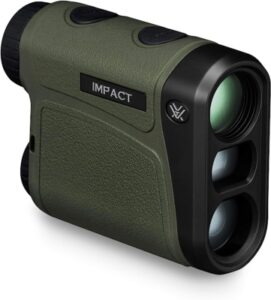 Another best rangefinder for bow hunting is the Vortex Impact 1000 Laser Rangefinder. This compact rangefinder is built with beginners in mind. It has an intuitive and user-friendly design and is available at a remarkably affordable price.
This rangefinder has the HCD mode as the primary mode. The displayed HCD yardage is corrected for short angle and requires no extra user input. As such, bow hunters can use the appropriate level ground pin for the range shown and fire the arrow.
Furthermore, the rangefinder is built for use even in the low light settings of dawn and dusk. This is made possible by the fully multi-coated optics that ensure high levels of light transmission. Over and above that, this ranging tool is waterproofed to be ready for use in any weather condition.
And that's not all. All Impact Laser 1000 Rangefinders have a ruggedized body that is shockproof and impact resistant to ensure long term use. Besides that, the rangefinder comes with 6x magnification power that ensures more accurate ranging by bringing the distant targets much closer.
Features
Fully multi-coated optics
Waterproof and shockproof construction
Eyepiece diopter
6x magnification
1000-yard maximum ranging ability
Primary HCD mode
Scan feature
Advanced LOS mode
Pros
Lightweight and easy to use
Decent price
Sturdy and durable construction
Cons
The numbers are hard to see
5) Sig Sauer SOK16607 Kilo1600BDX Laser Range Finding Monocular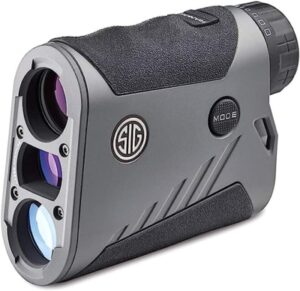 Sig Sauer Kilo1600BDX range finder offers the perfect balance between simplicity, value and performance. It employs an advanced Lightwave DSP technology that provides the fastest and accurate distance measurement of targets out to 1600 yards. It also has an interface that is very intuitive and easy to use, even for the beginners in bow hunting.
The rangefinder has a fixed 6x magnification power that ensures more accurate ranging without sacrificing on the field of view. On top of that, it boasts a hyper scan function that provides 4 range updates every second in scan mode. The regular update goes a long way to ensure that the yardage readings provided are accurate.
Moreover, this compact rangefinder has SpectraCoat anti-reflection coatings that minimize glare and offer superior light transmission. This results to production of stunningly bright and clear target views, even in the less-than-ideal lighting environments.
In addition to everything else, the Kilo1600BDX rangefinder has a Range lock feature that reports the last range result when one is ranging distant targets.
Features
6x magnification
HyperScan mode
SpectraCoat anti-reflection coatings
1600-yards metering range
Large red OLED display
Connectivity with BDX-compatible optics
Pros
Compact, lightweight and portable
Easy to use
Bright and clear display
Cons
Slightly complex mode menu
6) Leica Rangemaster CRF 2400-R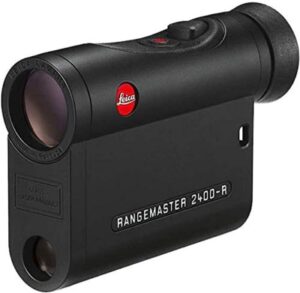 Leica Rangemaster CRF 2400-R is the best rangefinder for bow hunting for seasoned hunters looking to take their skills to a higher level. It combines premium quality optics with ruggedized mechanics to provide a ranging tool that is not just functional, but also reliable and easy to use.
The rangefinder has its high-end features packed in an extremely compact size that is simple to use with one hand only. On top of that, it has a lightweight design of 6.5 ounces only for easy carrying in the field.
For all weather reliability, Leica designed the rangefinder to be waterproof to 1m. Besides, it comes with an Aquadura lens coating that is water and repellent. This coating keeps the lens dirt-free in all environments. The rangefinder is also built to be usable in temperatures ranging from -4℉ to 131℉.
Another remarkable feature of this ranging tool is the newly designed LED display that offers crisp clear readability of the scanned distances in virtually all lighting conditions. Additionally, the rangefinder has an extremely fast scan mode that takes measurement every 0.5s and displays the distance in either yards or meters.
Features
7x magnification power
Bright LED display
2,400 yards metering range
Water and dirt repellent Aquadura lens coating
Waterproof and submersible to 1m
Rapid scan mode
Angle compensation mode
Pros
High quality optics
Durable mechanics
Ultralight and compact design
Generous eye relief
Simple to use
Cons
7) TIDEWE Hunting Rangefinder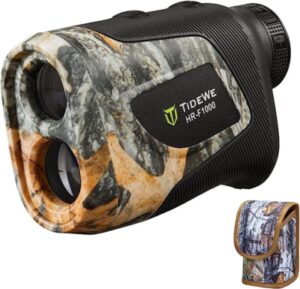 If you are on a tight budget, the TIDEWE Hunting Rangefinder is your ideal option. In spite of having a remarkably low price, this rangefinder comes with every feature that you need to make your bow hunting trips more fun and rewarding.
This rangefinder offers 6x magnification which is important for bringing the distant targets closer. During use, it displays a straight-line vertical distance, horizontal distance and speed to the target. This together with the continuous scan function provides consistent readings irrespective of the environment one is hunting in.
With a mere weight of 0.35lbs, the rangefinder is portable and easy to use. In addition to being lightweight and compact, this tool is built to last. It is made from strong materials to guarantee durability and longevity. Besides, the body is weather resistant to endure the harshest hunting conditions.
The other essential features included are an LCD display that is easy to read even in low light conditions, and a lanyard that makes the rangefinder easy to keep close by.
Features
Weather resistant body
6x magnification
Clear and easy to read LCD display
3-1000 yards metering range
Sturdy and durable construction
Lanyard included
Pros
Lightweight, ergonomic design
Great value for money
Easy to use
Bright and crisp clear display
Cons
Not built for long term use
8) MiLESEEY Laser Rangefinder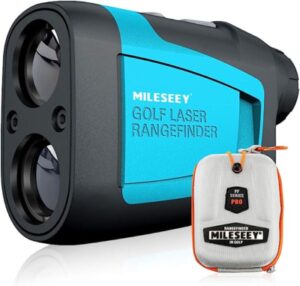 su_button url="https://amzn.to/3Jq4o79″ target="blank" style="circle" background=" #f58c1c" size="10″ center="yes" radius="10″ icon="" class="checkOnAmazon"] Check Price on Amazon [/su_button]
Lastly on our list of the best rangefinder for bow hunting is the MiLESEEY Laser Rangefinder. If you are big on both aesthetics and functionality, this rangefinder suits you. It has a sleek design and every basic feature you need for bow hunting pursuits.
The rangefinder is built ready for use in any hunting environment. It comes with a rain mode, a unique mode that makes it ideal for use in rain and fog conditions. On top of that, the rangefinder is splash proof so it won't get damaged when used in the rain or dropped in water.
Another highlight of the rangefinder is accuracy. It has a metering range of 3.3-800 yards and an accuracy of ±0.55 yards. The measuring time is less than 0.5s to ensure rapid updates and with the scan function, you are guaranteed of consistent and accurate readings all the time.
Moreover, this rangefinder brings to the table multiple modes including a bow mode (HD) that comes in handy when one has to measure the true horizontal distance from the fuselage to the target. It also boats a fixed 6x magnification and a large field of view to ensure quick target finding and acquisition.
Features
3-800 yards metering range
Class 1 eye safe laser
Rain mode
6x magnification
Fully multi-coated optics
Scan and speed measurement
Splash proof
Pros
Reliable accuracy
Fast measurement readings
Ultra-light and durable
Remarkably affordable
Cons
No locking mechanism on the battery compartment
Related 
How to Choose a Rangefinder for Bow Hunting
When it comes to finding the best rangefinder for bow hunting, here are the essential factors you should look out for.
Accuracy
The first feature to consider is accuracy. You will want the rangefinder to provide accurate measurement to the targets irrespective of the game you are hunting or the environment you are hunting in.
In rangefinders, the accuracy varies from one tool to the other depending on the brand and the ranging technology used. A tip is to get a device that offers not more than ±1 yard accuracy.
Durability
Go for a rangefinder that is built to last. The chassis should be made from high-quality materials preferably aluminum or magnesium alloy. Additionally, the body of the rangefinder should be armored for ultimate protection from shock, impact and accidental falls.
Lens Coating
Just like in rifle scope and other optics, lens coatings play an important role in rangefinders. A product with fully-coated or multi-coated lenses will limit glare and boost light transmission. This way, the image views generated are rich in clarity, brightness and clarity. Good coatings also play a big part in protecting the lens from scratches.
Weatherproof
The best rangefinder for bow hunting is one that is built ready for use in all hunting environments. Whenever you are out in the hunting grounds, it is hard to know what Mother Nature has in store for you. Therefore, it is important to get a rangefinder that is waterproof and fog proof for all-weather dependability. Also ensure that the rangefinder you choose is built to be operable even in extremely cold or hot temperature conditions.
FAQs
Do I need a rangefinder for bow hunting?
Yes, you do. Using a rangefinder for bow hunting eliminates the uncertainty of knowing how far the target is. When you have an actual yardage of how far a target is, you will be able to plan your shot more accurately and have the confidence to take down the game with ease.
What is the best rangefinder for bow hunting?
The best rangefinder for bow hunting is one that has all the features that you require for bow hunting. Our hunting needs differ widely and the rangefinder that works for your neighbor might not work for you as well. So, it important that you find the rangefinder that works best for your individual needs if you want to make your bow hunting trips more successful.
Conclusion
Avid bow hunters know how vital a rangefinder is for bow hunting. With the right rangefinder at your disposal, you can rest assured that your hunting trip will be more rewarding and enjoyable. Look at the features and specs that makes each rangefinder we have listed above outstanding, then use this guide to find a model that will enhance your performance this hunting season.